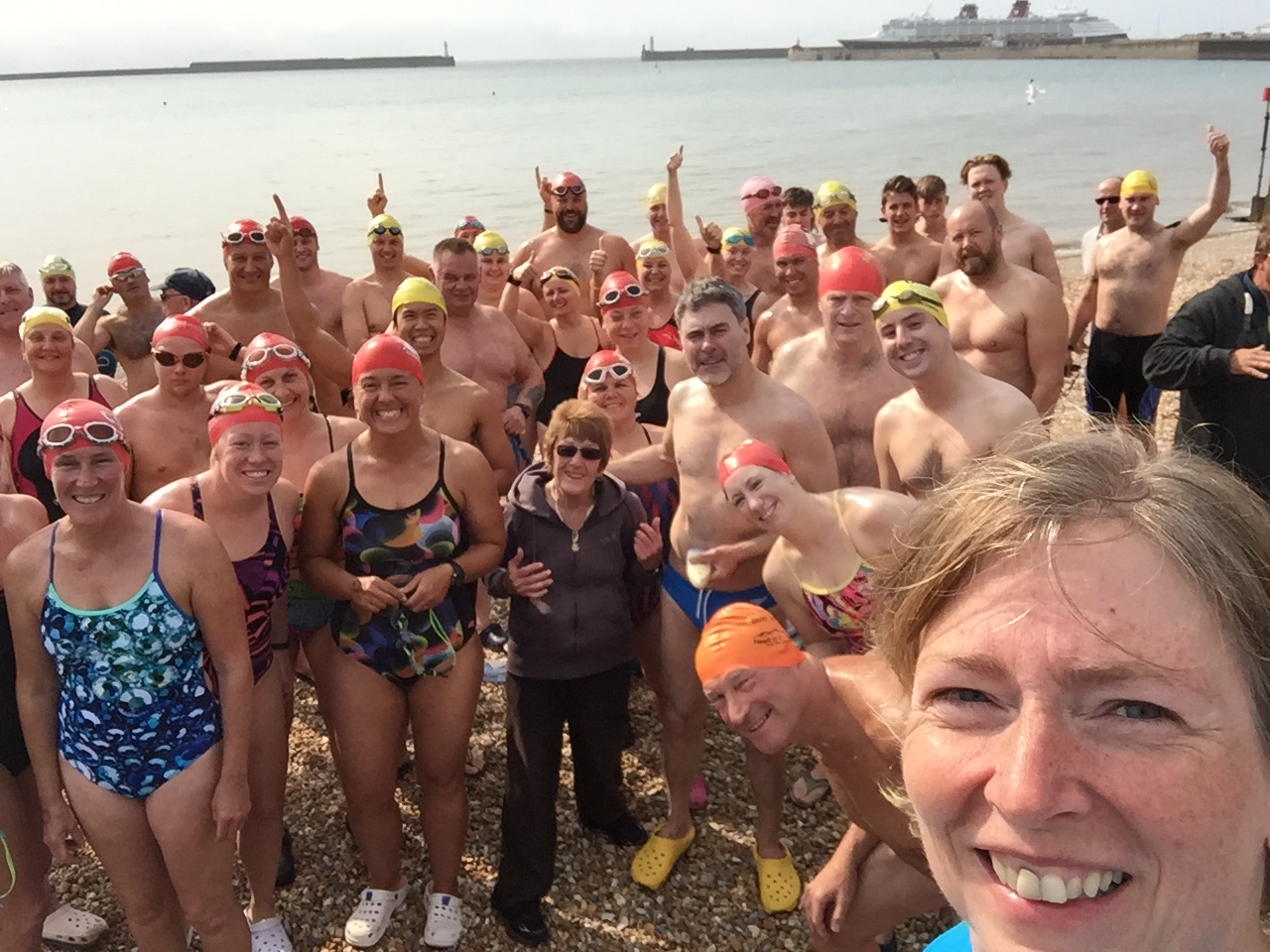 The Group
Details of the training group and where and when to find us
There is plenty of pay and display parking along the harbour front and a limited amount of free parking on a Sunday behind the green.
About
This training group dates back to 1982 (and beyond). In 1982 Alison Streeter (Queen of the Channel) was training to swim the channel and her coach moved overseas. Freda (Alison's mum) took over. At that time there were just a few swimmers. Over the years people approached Freda and asked if they could join in and she welcomed all with open arms. The group grew from just a few to the hundreds that we see today.
The philosophy remains the same, we are a group of like minded people that train together. This is not an official club or association. There's no constitution or membership criteria, no committee or bureaucracy, we welcome anyone who respects the nature of the group and would like to train with us. You will not be coached on how to actually swim. We look out for each other and are our own safety cover.
The beach crew are all volunteers who do this to help you achieve your dreams. Please remember that.
Many hundreds of wannabe channel swimmers have trained with the group and gone on to successful solos or relays.
Channel swims aren't the only things that people who swim with the group train for. There are lots of other notable swims like Catalina Channel, Windermere, MIMS, Round Jersey etc. If it's long and open water, you'll find great support.
Why not come along and join us, you'll be amongst like minded people.
TRAINING TIMES
Training starts on the first May Bank Holiday weekend each year. Training takes place every Saturday and Sunday until the end of the season (normally end of September).
It is really important that everyone starts together so that we can keep track of how long everyone has been swimming for, when you need feeding etc, etc. Each year there are people with a string of excuses as to why they can't do 9am, if you choose to come along later, you will be swimming independently of the group, i.e. we don't mind watching your stuff whilst we're there, but we won't give you a number, tell you how long to swim, feed you or count you in and out. So if you choose to swim independently of the group I'd ask that you wear a different colour hat (i.e. not Red or Yellow).
Training location
Dover Harbour
Training dates & times
Start: Beginning of May
End: End of season (typically end of September)
Times quoted below are the time for your toes to hit the water, please arrive early to sign-in, get ready and attend the briefing.
Start times:
May only:
New swimmers 9am, existing members 10am
June onwards:
Saturdays: 9.00am
Sundays: 9.00am
Watch out for location and time changes to give you experience in a variety of conditions. Alternate locations are likely to include Ramsgate & Hythe.
Season Subscriptions
Just for fun - £15
If you're simply training for fun, rather than for an event, than this is for you.
What you get: We'll provide your vaseline and gentle banter, we'll also keep an eye on your bag and beach shoes.

Relay - £30
If you're training for a channel (or equivalent) relay or a short swim that won't require feeding, this is the option for you.
What you'll get: everything from 'Just for fun' plus - a training plan tailored to your event, a certificate for a 2 hour swim and any ratification paperwork signed, all the encouragement you need to get through any barriers you experience in training, access to a 10% discount on any products sold in the shop. You may also get the odd treat!
Solo - £70
If you're training for a channel solo or other equivalent marathon swim that will last more than 3 hours, this is for you.
What you'll get: everything from 'Relay' plus feeds (including a variety of treats) after 2 hours and hourly thereafter and a 15% discount on any products in the shop. NB your certificate will be for a 6 hour swim.
Discounts are available for students, pensioners and those on low / no income.  This is in exchange for volunteering to help during the season.  If you think this applies to you, please speak to Emma in confidence for more information.
It's important to note that we can only offer training at this level of cost when we all work together to cover the volunteer roles. Not only will you be ensure that we can continue to offer training, it is also great way to gain further experience in important skills such as feeding, assessment of hypothermia, psychology of swimming, etc. Make sure you choose your preferred volunteering session whilst it's still available.